So you remember my inspiration board right? You don't!? Neither do I unless I actually look at it, so as a refresher, here it is.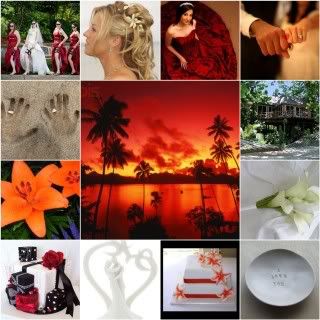 Sources: Bridal party posing: Victoria Souza Photography, Bride hair: Project Wedding, Red wedding dress: , Heart in hands: , Hands in Sand: ,
Matangi treehouse
, Calla lily bouquet: ,
Card box
,
Cake topper
,
Cake
,
Ring dish
So how did my wedding really turn out?
I think we did a good job of sticking with my original inspiration. Sure it's not exactly the same, but who wants a cookie cutter wedding anyway?