I won't put you through ALL of our dancing pictures because there really are a ton of them! We had a blast just hanging out on the dance floor and boogieing and singing along to our favorites. I even got a group up with me during 'The Time Warp' (form Rocky Horror Picture Show) and had to teach them the dance!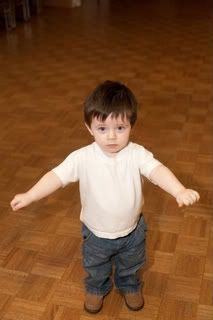 "Those summer nights!" (I think that's the song here)
*sigh* Loved dancing with Nick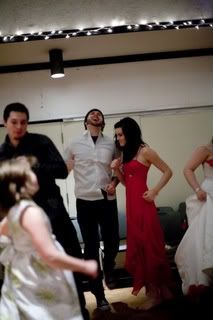 They are so cute!
Some of these are a little blurry, sorry.
She danced until she dropped!
Couldn't help but sneak a kiss on the dance floor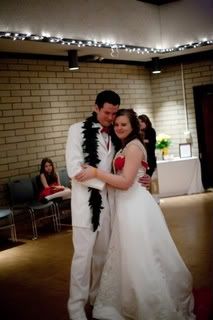 All right, that's all I will put you through. There are many, many dancing pictures because we had a lot of fun partying!
The night was winding down and it was getting to be time for us to leave and go...to bed. My next post, will be about our lovely car decorations. I can't believe my recaps are almost over!! Does anybody actually read these or am I just doing it so I can keep reliving my wedding? Or both?
I won't be posting again until after this weekend so have a safe and happy Independence Day! Happy birthday America!! (Can anybody else not believe it's already the end of June!?)
Note: All pictures were taken by our photographer, Jessica Lemmons, and her assistant. Check out her amazing work
here
!