We ate and mingled and had a lovely time for a while and then I was informed by my DOC that it was time for speeches.
Nick's best man started things off & got a little teary when talking about Nick. There was also a mention of homosexual gnomes that apparently is a private joke between the two of them (yeah, I didn't get it either).
Then it was my maid of honor's/sister's turn. She didn't have a speech planned, but it was cute and funny anyway.
And finally Nick thanked our families for helping and everyone for coming and we drank again.
Source:
YouTube
Our beautiful cake was ready to be cut and eaten now that everyone wasn't so full of food. Nick and I weren't really sure what we were supposed to do, but thanks to our experienced photographers, we got everything figured out.
My turn to feed Nick first...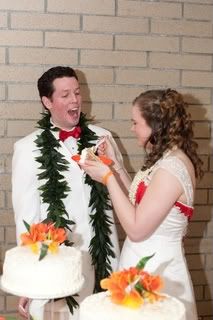 and I missed his mouth the first time. Luckily the cake fell back onto the plate and not onto our white clothes.
Take two was a success!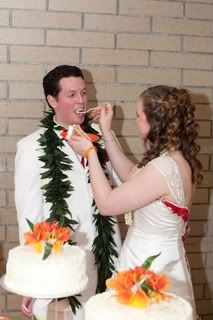 Then was Nick's turn and he didn't miss.
As fun as shoving cake in the other's face can be, it wasn't for us, especially since we were both wearing white and the cake had raspberry filling.
Stay tuned for our bouquet and garter tosses. Lots of fun!!
Note: All pictures were taken by our photographer, Jessica Lemmons, and her assistant. Check out her amazing work
here
!
Oh, and happy Friday!!