Mom, Shannon, and I went up to my aunt's house near Seattle this last weekend for the soul purpose of trying on THE dress (see the end of last blog). We were referred to the Alfred Angelo store in Tukwila by the bridal shop in town since that is the designer of the dress, they'd be sure to have one for me to try on.
I'll skip most of the weekend since it was mostly shopping and none of it wedding related.
My appointment at Alfred Angelo was on Sunday and one of my cousins (also a bridesmaid) met us at the shop. We didn't waste any time finding the dress and grabbed a dressing room. As soon as I put the dress on I knew it was the one, even before I saw myself in the mirror (it helped that it fit like a glove and didn't have to be clipped at all). I was so excited to finally get to try on THE dress that I squealed (quite a lot) and couldn't stop smiling.
So here are some pictures we took (don't worry, we were allowed)
I was VERY happy with the way the dress looked and fit on me. Can't you tell? :)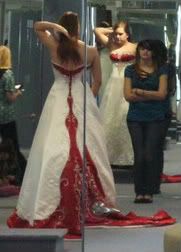 Kinda hard to see the back, but you get the idea.
I am going to get the optional capped-sleeves because I think it looks better on me and will give me a bit of peace of mind. I also really liked this veil. It's finger-tip in length and has beading around the edge that matched the beading on the dress really well.
We put my young cousin (who is going to be flower girl) in a dress too and she loved it! She kept sitting down in front of me on the riser and Mom took the opportunity to snap this picture.