Side note: Just lost whole blog! AGH!!! So hopefully, I'll remember what I said so I can write it all out again.
Last Saturday, Shannon (my maid of honor) and I went wedding dress shopping (or I guess looking, because I wasn't planning on buying then). We went to Michelle Renee's with my grandparents and then headed to Vancouver by ourselves to the Bridal Arts Building. I was looking for a specific dress and those shops were two listed on the designer's website.
First stop was Michelle Renee's and when we got there, a sign on the door said by appointment only, so we went in to make an appointment hopefully for that day. Yay there was a cancellation! Unfortunately, they did not have the dress I was looking for, but had similar styles by the same designer so I could get an idea of what it would look like.
First things first, I tried on an all red gown just for fun. It had a HUGE train and ruffles all the way around on the bottom. I loved the corseted top also. It fit like a glove and was half off! But I want to wear white on my wedding day and that dress had none whatsoever. It was fun to try on, but a little bold for my taste.
The next dress I tried on was beautiful and had a lovely train and intricate beading. Not as much color as I would have liked, but it was added to the small list of dresses I would consider if I could not get the original one I wanted. This one was Alfred Angelo 1612 (you can look these dresses up on
http://www.alfredangelo.com/
and see better pictures). Note: The brown would be red if I were to get this dress.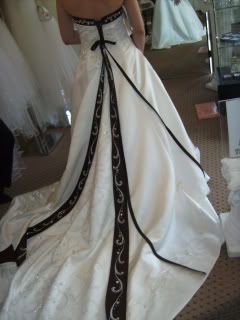 The next two dresses I tried on were pretty also, but not me so it was back to the second dress. We didn't take many pictures of the 3rd dress, but here's the last one. It's Alfred Angelo 2015.
I loved how I looked and it had lacing up the back that I LOVE the look of. Since Mom couldn't come that day, I made an appointment for the following Wednesday to come back and try it on again so we could get ideas.
After Michelle Renee's it was on to the Bridal Arts Building. They didn't have the dress I wanted either, bummer. So I tried on some more that were close (and one that wasn't close at all) to get ideas (but mostly for fun since we were already there).
First dress was nothing like any of the other ones I tried on that day. It just caught my eye while browsing the dresses and I liked the pop of color.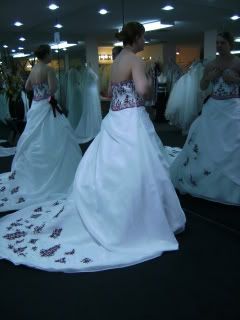 The other dresses I tried were all Alfred Angelos (guess I just love his style). I don't have a picture of 1139 because it wasn't enough color for me. But I tried on 1708 and loved the amount of color on the dress. Wasn't a fan of where the waist hit me, but I was getting closer to what I wanted. Notes: Sorry the pictures are blurry, I was a bad girl and took pictures when I wasn't supposed to, but the dresses can be found on the website. Also, all of the green on the dress would be red if this were the one I was getting.
The next dress was gorgeous too and was already red so I didn't have to try to imagine it! I loved the amount of color and the beading and the length of the train. Very close to what I wanted, but not exact. At least with trying on these dresses, I know mostly what the one I want will look like. This dress is 1516 and has the option of straps (which I would need, and most of the dresses had that option, I just didn't mention it).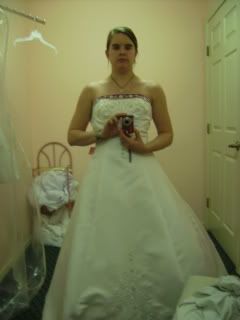 So those are all the dresses I tried on Saturday, but not the one I want. Mom, Granny, and I went back on Wednesday to Michelle Renee to try on that second dress again. And I did find out that the dress I want could be ordered, even if they don't have the sample. I am about 90% sure I want that dress, the other 10% is trying it on, which I have to find someone who carries it to do that. I also found out on Wednesday that if my dress and the bridesmaids' dresses are ordered from the same designer at the same time, they will be the same dye lot (I did know that, I just forgot about it). So even if all the dresses aren't the same (I'm letting the girls choose their dresses), they will be the same color. I like that idea so there is some uniformity, but the girls will feel comfortable in a dress they picked for the price they could afford.
I think that about wraps it up, now that I talked your ear off. OH! Here is the dress that I want.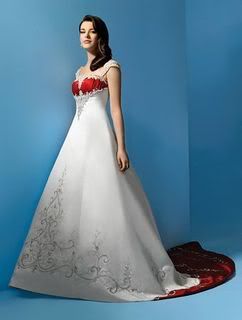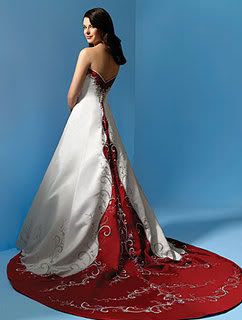 Source
Gorgeous isn't it? Fell in the love the first time I saw it and I still love it. Can't wait to be able to try it on and see what it looks like. I felt like a princess last Wednesday and Saturday and I can't imagine how I will feel when I put this one on.