After pictures were over, it was about one hour until go time and I was hustled out of the sanctuary so any early guests wouldn't see me in all of my gloriousness.
Five o'clock rolled around and Nick comes into the room we are waiting in and says, "Don't panic, there is a slight delay because people are still filtering in."
Ahem...what!? You mean there are actually going to be people watching!?
Seriously, that was my first thought after he said that. I know, that's ridiculous because we actually invited all of these people, but I never expected there to be as many as there were. Apparently the sanctuary was almost completely full and that was when I started getting nervous. Not about getting married, oh no, I had already felt married for about a year by this point (with none of the perks mind you). I was nervous about remembering my vows (which wasn't a big issue since I would have them up front with me) and not tripping while walking up the aisle or on the stairs on the stage.
Take a deep breath, one last hug from my mom and it's down the stairs to the door we would all be entering through. I was concentrating on not falling down the flight of stairs and...I heard the first bars of the first processional song and absolutely lost it. I tried to hold it in, but I was just so overwhelmed and happy to be marrying Nick that I started sobbing!! Thanks to one of my girls, not sure which one, they were all blurry, I was handed a tissue to keep my make up from running down my face. More deep breaths and our processional line is moving forward.
You can listen to the processional song while you read!
Israel kamakawiwo'ole - "What a Wonderful World from Mountain Apple Company on Vimeo.
First up were the grandparents. I only have one picture of Tim (my brother) walking my granny down the aisle.
Next were Nick's parents and my mom. Both of our mothers were to bring our sand up front and put it on the table on the stage for the union sand ceremony. Apparently they forgot about the sand until after Nick's mom was already up front and my mom was halfway down the aisle. Yikes! Mom turned around and grabbed both sand containers and walked back up the aisle.
Crisis averted.
Next up came my maid of honor andbridesmaids, I don't have pictures of all of them either so I will show the ones I have. They were so pretty!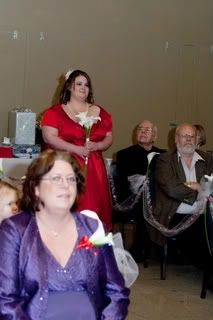 Junior bridesmaid and ring bearer (handled the ring dish very well, even with our real rings on it)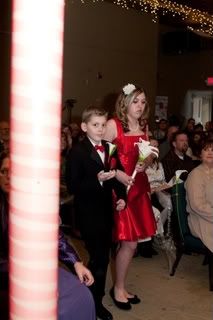 Other junior bridesmaid and flower girl.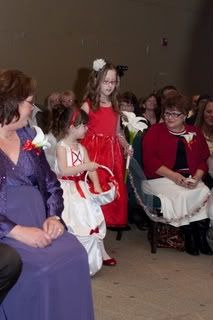 I love the interaction between FG and Granny. So cute!
My turn...
Nick looks a little antsy doesn't he? He's had to wait all this time...
And so will you because I will be in the next post. :-D
Note: All pictures were taken by our photographer, Jessica Lemmons, and her assistant. Check out her amazing work
here
!