Here are the last of our formals, we will start with our wedding party pictures and then wrap up with the family pictures.
Since the weather was playing nice, we headed outside and took pictures in an alley.
Notice anyone missing? That's right, my brother! He was still at the church talking on his cell phone to his girlfriend (now fiancee) and didn't know where we went. Silly boy.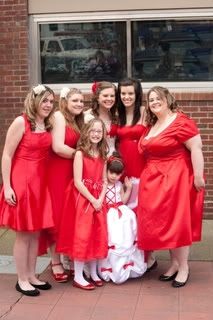 We all huddled up because even though it was not raining, it was still cold!
Another laughing picture. Ha ha ha...ha...
Ah! Brother decided to show up for this picture.
Then it was time to head back to the church for family pictures.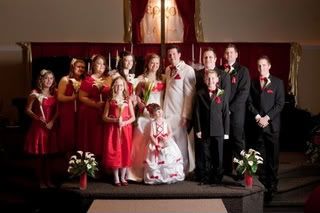 Full wedding party...love the faces on the younger kids. Precious!!
All the handsome boys and moi!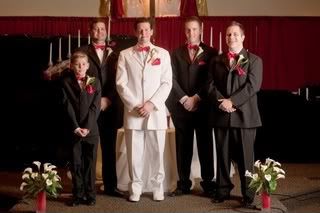 More of the handsome boys!
Nick, his brother, and nephew
Nick's family
Nick's parents
My family...I feel like a doll. My expression hasn't changed in any of these pictures.
My granny
My grandparents
My parents, brother, and sister
My parents
Aw!
We take some good pictures...
...And then we take some interesting pictures.
Uh...
Right, so...yeah, we're an interesting family. Haha! Gotta love them.
Well, I've finally run out of pre-ceremony pictures! You know what that means?! It's on to our ceremony! Yay!!
Note: All pictures were taken by our photographer, Jessica Lemmons, and her assistant. Check out her amazing work
here
!