After trying on my dress a couple of weeks ago (check out that post, the dress is AMAZING!!) Mom and I decided on a whim to go to Vancouver to lunch and the mall.
Let me just say that Golden Tent is the best Mongolian restaurant around and I would gladly drive the 35-45 minutes everyday for it's goodies (if you've never had Mongolian, you MUST try it!!! That is your homework). After lunch, we walked the Vancouver Mall (I'm sorry, Westfield Shopping Center) and I found my girls' hair accessories.
MOH and bridesmaids will be wearing these lovelies in their hair. They are not perfectly white, but very cute and I couldn't resist the feathers.
My two junior bridesmaids will be wearing these headbands that tie in to the others with the flowers.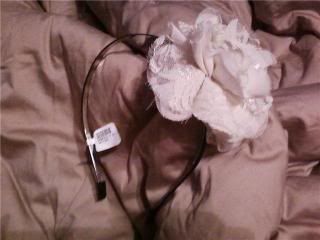 And my adorable flower girl will be wearing this headband. There is not flower on it, but her dress will have red bows on it, so I think it will be a good match.
I haven't decided what to do with my hair yet. I'm going for a half-up do like these:
I will have a waltz length veil for the ceremony and pictures, but I want some sort of red flower for my hair for the reception. We'll see what I can find.