She fits! She fits! She fits!! I can't tell you how relieved I was when my dress zipped up all the way. Not that I had put on any weight or anything, but it's been four months since I ordered her and even longer since I had tried her on. Another thing I was so happy about was that she isn't yellow. I ordered ivory because white made me look like a ghost, but since I hadn't seen my dress in months (I think I tried her on in March) I couldn't remember what the ivory looked like. It's very subtle, but still looks amazing.
So without further ado...
I brought an ivory veil with me that I bought on eBay for $15, but it was too yellow and too long we decided. So I tried on a few different lengths and styles and we decided on a waltz length (54") with red trim to match the red in my dress (isn't she gorgeous!!).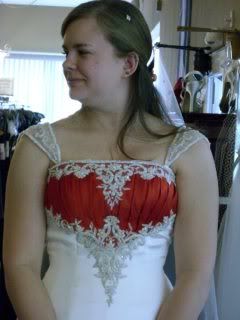 Here is a shot of the beautiful detail on the bodice and the cute sleeves.
Showing off my beautiful shoes that I am not going to wear. They were a tad high and made me look like a floating bell. So I ordered a pair of shoes that were surprisingly comfortable and could be dyed to match my dress. The fun part about the shoes is that they will be two-toned like my dress with the ankle strap being white (since no one will notice that it isn't ivory).
Ah, the reason I fell in love with her in the first place. Look how gorgeous that train is. I spent most of my appointment trying to turn around to look at it. :D I love the detail and the shape of the red going down to the train.
There you have it, my lovely, lovely dress that I can't wait to wear.
On Tuesday it will be five months to go!!