Last night was my mom's work Halloween party and I went all out on my costume. I was originally going to be a Victorian era vampire, with Christopher's outfit from Project Runway.
Source
But ended up looking like a saloon girl because my teeth weren't working for me, so I didn't wear them. So this is me and let me know which you think I am.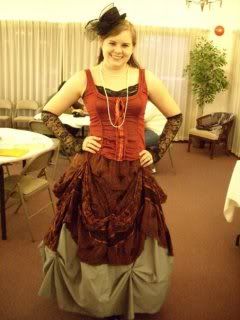 This is my mom (on the right) and her friend. They went as Evil Things 1 & 2 (my idea).
My sister and her boyfriend went to the party as professional thieves.
We also had a dead Billy Mayes at the party. It was a lot of fun, I love dressing up and I even won best costume!! Yay me!
Now I just have to decide what to wear on Halloween to go to the Rocky Horror Picture Show. Hmm....