Haha, just kidding, but it got your attention right?
Source:
Youtube
Our DJ announced the bouquet toss and all of the girls piled onto the dance floor.
I stepped up to the plate with my bouquet. If you'll remember from
this post
that my tossing bouquet was made up of about 20 single flowers bouquets. My bridesmaids and I wanted to make sure that the girls knew there wasn't just one bouquet coming at them so we staged a little scene. My bridesmaids yelled at me to toss the bouquet at them and I let them know there was plenty for everyone (I know, kind of cheesy).
And the pitch!
Going, going...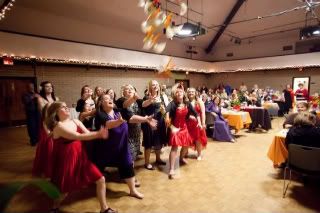 Gone...onto Megan's (bridesmaid) head. Hmm, the flowers sort of stayed all bunched together when I threw them and they all landed on Megan and she got dog piled. Oops.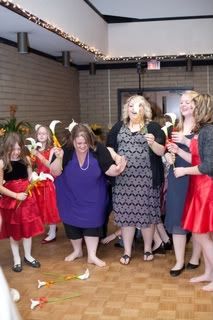 Her saying, "That's not how this was supposed to happen!"
But as a whole, the toss was a success and everyone (I hope) got a flower.
This lovely lady got four!
What a laugh we all had over that and then I heard this music come on and Nick walking towards me with a grin.
Source:
Youtube
I was plunked down in a chair
And I told Nick he had to be nice-ish. He could use either his hands or his teeth, but not both!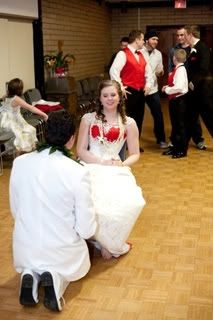 Pay no attention to the grin on my face!
He really went for it and I had to hold my dress down so nothing would show that wasn't supposed to!
But he finally got it off of me and my part was done. He let the garter fly.
Our ring bearer was going for it!
He would have had it too, but he was a little late in his grab and it passed into the waiting hands of...
My brother!
And he's on the run to...
Can you see those arms? He ran straight to his girlfriend!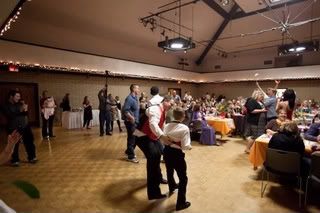 The whole thing totally looked staged, even though it wasn't.
They are so cute!
We all had a good laugh at that (it looks awesome in the video) and then we sobered up a bit for the dances. This will have to be in another post because this one is really long already...and I might tear up a bit so it'll have to wait.
Note: All pictures were taken by our photographer, Jessica Lemmons, and her assistant. Check out her amazing work
here
!