We wrote our own vows to each other (I had mine done before even asking Nick if he wanted to write them) and I really liked how personal it made our ceremony. Not that I have anything against the repeat after me vows, it just wasn't for us.
Nick's vows:
Samantha, it took some time for us to figure out we were going to work well together.
I like that you have a spiritual guide to follow for living your life.
It is an instrumental part of who you are and a part that I will continue to support as we move forward together.
I promise to keep you grounded when your thoughts are running wild.
I apologize for the times when I will kiss you just to make you forget everything you know.
I will always listen to you, I will always laugh with you and I will always be there for you.
Now as we walk the future together, I promise you love and honesty.
My vows:
I have been waiting for this day since I knew God had someone special for me.
He gave me a big heart and you have filled it completely.
My heart belongs to you along with all of the love, honor, and respect it can hold.
I want to spend the rest of my life laughing with you, crying with you, and sharing your dreams.
I will trust you even when I don't understand, and be honest and faithful to you for the rest of my life.
I look forward to any challenges we encounter because I know we will face them together and come out on the other side stronger than ever.
I love you and will walk beside you, from this day forward, as your wife.
After drying a few MORE tears (had a tissue hid in my hand) we joined our officiant up on the actual stage for our lei and sand ceremonies and to sign our marriage certificate and become legal.
Source:
YouTube
Let me explain this section a little bit, the lei exchange was something we wanted to do to recognize his Hawaiian heritage. Normally the bride and groom exchange leis with their families as well, but Nick and I just wanted to do this by ourselves. It was Nick's job to get the leis and he did a great job picking them out. They smelled so good!! Nick's lei was made of Maile and mine of Pikake (my new favorite smell).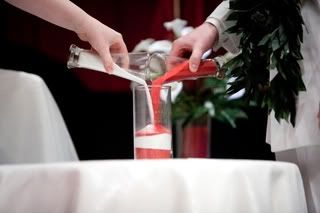 (Nick did too, I promise, there just isn't a picture of it)
We stood and just stared at each other and talked while our best man and maid of honor signed.
Love this picture
Note: All pictures were taken by our photographer, Jessica Lemmons, and her assistant. Check out her amazing work
here
!