We kind of had a funny moment before we arrived at our reception when we had no idea what time we were supposed to head over! I didn't have my cell phone with me and Nick had his, but I didn't know any cell phone numbers that would actually be turned on! Nick finally got a hold of his best man and we were told that everyone was there waiting for us so we headed over.
When we got there, we were greeted by a couple of my coworkers who couldn't stay, so it was nice to catch them on the way out and thank them for coming.
Our DJ came out and greeted us too, since we hadn't met him yet, only talked through email.
We were announced and tripped our way into the reception...seriously Nick tripped over the door jam and almost face planted...and made our way up to our table.
Our photographers took a bunch of guest shots, so I'll share those as we walk up to the table.
This is my mom's cousin's baby and he is adorable!!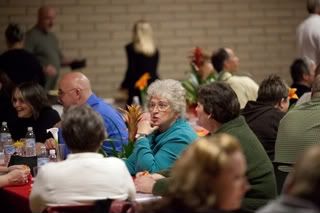 We ate and schmoozed and then it was time for speeches...next time!
Note: All pictures were taken by our photographer, Jessica Lemmons, and her assistant. Check out her amazing work
here
!