Let's do the win first, because it's happier (sure why not, we'll go with that). My tossing bouquet was something that I wanted to be different than normal. Everyone has been to a wedding and wanted to catch the bouquet and maybe you have caught one (I did once). At our wedding, I am giving all of our single ladies a bouquet to catch. Each flower in the "bouquet" will be its own bouquet. Here's what I did...
Take 20 parts flowers...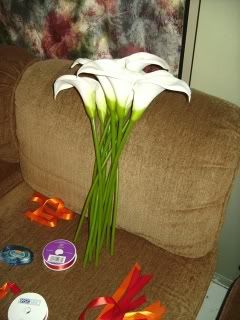 And add equal parts of ribbons along with some scissors.
With a snip, snip here and a little sweat there, the idea takes shape.
Each bouquet was tied with a ribbon and I let the strings hang because I thought it was adorable and fun. Here is how they turned out all together.
When the time comes to throw, I will hold them all together like one bouquet, but then they will separate and then every girl can catch one (hopefully, as long as there are only 20 or so girls to toss to).
So that's my DIY win, now for the fail. My card box did not turn out how I wanted it to, so I went to Michaels and bought one. I'm the bride, I'm allowed to do that if I want to.
In other news, I got my dress back from the seamstress today!! Yay!!! Now she is hanging in my room, teasing me that I get to wear her soon. Argh!!
I have one more day of work left! Whoopee!! And then I can devote my few remaining days to getting everything together and trying to remain calm. Good luck to me.
I am in the process of getting the bachelorette pictures together, so don't worry, that post is still on it's way (although might not come until after we get back from our honeymoon).
4 days!!!