Well, not really, but after having a blast it is time to leave the reception.
Our car was decorated and lovely by our wedding party and friends
Nick still has some of the window clings on his car. :-)
Everyone was given bubbles and we said our goodbyes.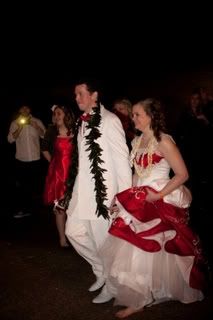 I had taken my shoes off while dancing, so Nick carried them for me while I hiked my dress up.
Goodbye everyone!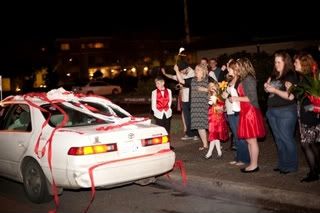 And we were off to our house for a wonderful night ALONE!
Our wedding was so fun and amazing and awesome and wonderful and a lot of other great adjectives! I relive it everyday so I won't forget, but I don't think I ever could anyway. I love looking at all of our pictures and am having trouble deciding what ones I want in the album and hung on our walls. *sigh*
Don't worry, my posts aren't done yet, I still have a few other things to blog about such as budget and a surprise from earlier that day.
Note: All pictures were taken by our photographer, Jessica Lemmons, and her assistant. Check out her amazing work
here
!