I've talked to Nick, Mom, and bridesmaids and we've decided to add another color to the palette, but only for the reception. So, without further ado (I love that word, I never really knew what it meant until I watched 'Much Ado About Nothing')
Ceremony: Red & white (just like before)
Reception: Red, white, and...orange!
That's right, orange. I was trying to find an Asiatic lily, or similar type, in true red, but was only finding burgundy and pink. I ran across this picture and really liked how the color popped.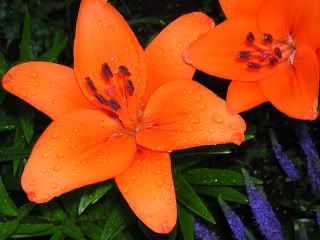 I really love this picture, taken at Matangi Resort in Fiji. It has been the inspiration for the new color scheme: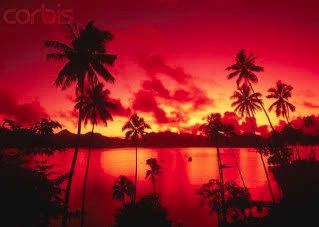 Here is a collage that I made, hopefully it doesn't look like a bunch of totally random pictures, but makes sense regarding my scheme.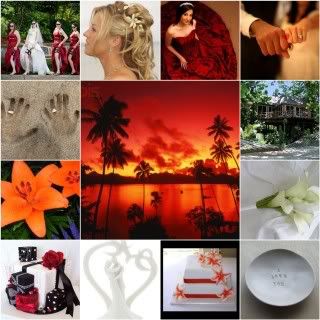 So now our flowers have slightly changed regarding the reception; the ceremony will be the same as before, colors and everything. So here I go again:
Ceremony:
My bouquet-red & white long stemmed calla lilies wrapped w/ red & white ribbon & Nanna's pearls
MOH bouquet-red long stemmed calla lilies wrapped w/ white (or red) ribbon
BMs bouquets-white long stemmed calla lilies wrapped w/red ribbon
JBs bouquets-white short stemmed bouquets wrapped w/ red ribbon
Boutonnieres & corsages-white & red mini calla lilies, going to depend on what the guys wear as to which color of flower they wear
Reception:
Cake-decorated with orange Asiatic lilies
Centerpieces-red & orange fruit & white (silk probably) mini calla lilies
Does any of that make sense? Be honest now, what do you think?
Picture sources:
Orange lilies
,
Sunset
, Bridal party posing: Victoria Souza Photography, Bride hair: Project Wedding, Red wedding dress: , Heart in hands: , Hands in Sand: ,
Matangi treehouse
, Calla lily bouquet: ,
Card box
,
Cake topper
,
Cake
,
Ring dish