No, I didn't go to a race track (although that does sound like fun). I finally finished our wedding invitations and mailed them off! They are officially out of my hands and into the ones of our trusty (I hope) post office.
We did the WHOLE invitation process by hand and what an experience that was! Not one that I think I'd want to do again, but at least I've done it once. Let me walk you through it, shall I?
Step One: Gather supplies
Here is what we used:
-Invitation backing: red/white two-sided card stock (super cute red hearts on the white side)
-Printed: ivory shimmery paper
-Ivory envelopes
-Envelope labels: full page labels (these worked awesome, I'll talk about them further down)
-Three different paper cutters (one would have worked, but I tried two others first)
-Tape stick (found on the scrapbooking aisle of Wal-Mart)
Step Two: Print invitation, RSVP, & direction wording on shimmery paper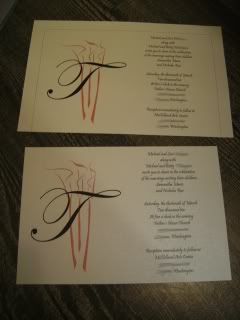 Once I had all of the wording the way I wanted it, I took all of the shimmery paper and my flash drive with the files on it to my mom's work and printed everything on their giant printer. It was awesome and you wouldn't know it wasn't done professionally!
Step Three: Cut paper
One piece of red paper made the backing of one whole invitation. I cut the paper in half and then cut one half in half again (confused yet?) so make three pieces.
The shimmery paper was easier because I had printed lines showing where to cut. All I had to do was cut on the lines and trim the edges a little bit. Piece of cake!
Step Four: Assemble pieces
Pretty straight forward, use tape stick on the back of the shimmery paper and then stick it to the red side of the backing. I did the same with the RSVPs (leaving the white/heart side blank so guests could write us a note) and then the direction cards were double sided.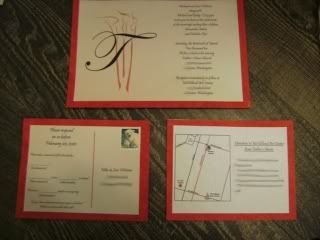 Step Five: Place invitation in envelope and seal
Voila! You have assembled your invitation! Now you just need to paste the label on the front of the envelope and…hmm, I mentioned full page labels didn't I? I found the template for our wrap-around labels online (love the Internet), but couldn't figure out how to get them on the envelope without messy glue. So I went to my local Office Max and found full page mailing labels. Great! They were super easy to print the labels onto and then I just cut them down to size!
Step Six: Place label and stamp on front of envelope.
Yes, I am sending an invitation to Mickey and Minnie Mouse, I couldn't resist. :-D
I made sure to assemble one invitation beforehand and took it to the post office. I wanted to know exactly how much postage I would need before I started this whole endeavour. What luck! Our invitations were only going to need one $.44 stamp. I couldn't help but buy the king and queen of hearts! They are so gosh darn cute!!
Step Seven: Place in hands of post office.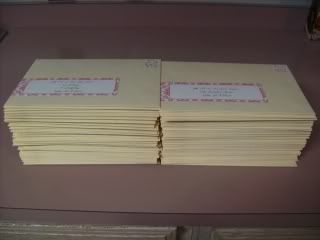 On another note, WE'RE GETTING MARRIED IN TWO MONTHS!!! I am so excited, I really wish it would come faster, but good things come to those who wait right?