Or tux as the case may be. I FINALLY got Nick into the local tux rental shop to pick out tuxes and get them reserved for the wedding. It was really fun to watch and my does he look handsome in a tux!
These lovely pictures were taken with my phone so bear with me.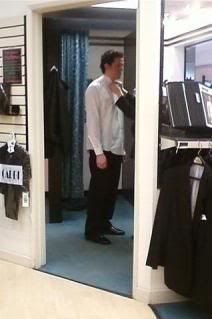 I don't have any pictures of Nick in the tux he picked out, but here are pictures I found online at
Mr. Formal
(where we are renting them from). Nick will be wearing Andrew Fezza "Cannes" in white and the other guys will be in black. Then they will all be wearing white shirts and red vests and pocket squares.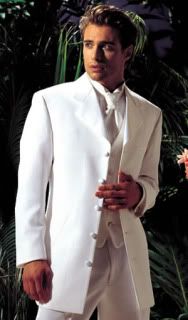 So sexy!! (I mean Nick, not the guy in these pictures)