Saturday was my bridal shower and I REALLY got showered!! Thirty five women showed up and we all squished into my grandmother's living room! It was awesome though. I felt very blessed! I received some really great gifts, like ALL of our dishes, silverware, and glasses (very exciting, now we can eat in our home!). :-) And a facial!! Yay! Now for some picture fun!
The cake was so cute!!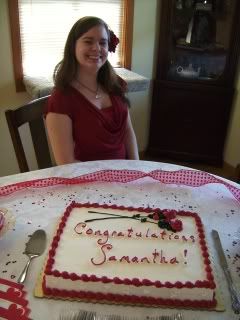 My sister the Maid of Honor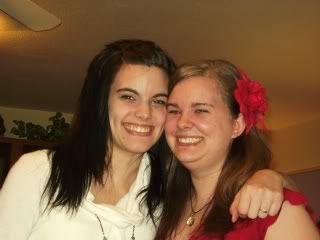 The adorable flower girl!
From left to right: one of Mom's friends, Granny, my great aunt, Grandma
Again, L to R: Hairdresser (you can only really see her hair, cousin, cousin, Mom's friend, cousin, great aunt who is making our cake, and up top is my aunt :-)
FSIL playing the game: a prize was wrapped (many times) and you have 20 seconds to take off the wrapping. Whoever got it all the way unwrapped, won what was in the box.
Cousin playing the game
Great aunt--see the lovely duct tape?
My cousin got the duct tape off, but not the last layer in time.
My mom's friend and her daughter--she won the prize! A yummy smelling candle!
The package didn't make it all the way around the room, so the rest had to split into teams and make toilet paper dresses.
This was the winner. When it was finished, it had a corset back and lovely designs in the front. Even came with a headband and garter!!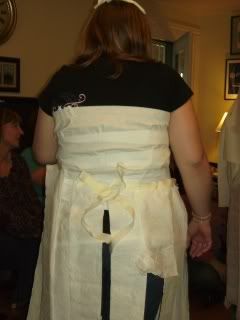 Here are all three brides :-)
Like I said, I was blessed very much!
I was so excited that I received all of the dishes we registered for! Nick and I both loved them. :-)
Whew! What a party! I was exhausted afterwards!!
19 days!!