Nick and I only have a month left! A lot has happened in the last week (see my last post for something truly exciting!) so we'll start with my first fitting on Thursday.
First let me just say that this seamstress is awesome and very inexpensive! I didn't need a lot done with my dress, just tightening the straps, tucking the lining of the dress in at the top, and the bustle. So I am only being charged $40 for my alterations!! Yay!!!
In this picture, you can see the top of the lining along the top of the dress. The seamstress is going to tuck and tack it so it won't show.
Here is kind of what my bustle will look like, right now it is just pinned in place.
Shannon was goofing off with my veil since she had her fitting before I got there.
Silly girl :-) (If only she had known then, and if you don't, see my last post)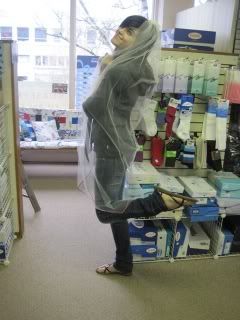 I also got my shoes that day. I love how they are two-tone like my dress!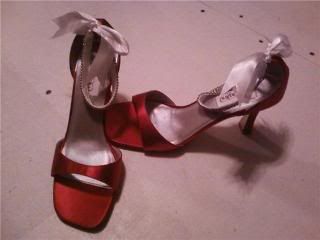 This last week we also decided to change the reception centerpieces from fruit to flowers. This is just going to be less stressful all around because we won't have to make them two days before the wedding (yes, that was the plan, but no longer). So I have been calling around and haven't been able to find a place that can get me 24 potted white lilies. If worse comes to worse, we will use fake calla lilies as the centerpieces, but I'd rather have live ones so that I can plant them after the wedding.
Yesterday we met with our photographer to get her paid and the details finalized. She said I was super organized (must be my OCD) and the appointment took all of 20 minutes.
I was going to post this on the one month mark, but that was two days ago and I couldn't very well write this post while Nick was here because of my dress pictures. Here is my to do list for the next month and what I have finished from the last list (again, updates are in bold):
-Finish buying decorations
(almost done with this one, still need the taper candles and vases for the ceremony, a couple more candy dishes, and about 100 more little umbrellas)
-
Finishing etching our toasting glasses & sand vase
-
Contact our reception venue to see about setting up the day before the wedding
-
Plan our rehearsal dinner
-
Get our engagement announcement into the local newspaper
-Check on insurances
-Buy a card box
-Get marriage license
-Get our music selections to the person that will be doing the sound for the ceremony
-Finish buying our dessert plates and napkins (I was able to get everything else at Costco)-Order our food-Finishing gathering supplies for our photo guestbook-Buy yellow roses for Grandpa's memorial table-Finish buying our favors (still need the Multiple Sclerosis bracelets and M&Ms)-Get our music list to the DJ-Pay for our videographer-Pick out our engagements pictures we want printed to put on the tables-Finalize and print our programs-Finalize the day of schedule and send to everyone involved in the wedding-Call non-RSVPers-Confirm that everyone in the wedding has what they need-Gifts to the girls-Honeymoon itinerary to our parents-Pack for our honeymoon
So, a lot to do in the next month, but it will get done.
26 days! So exciting!