Saturday before picking my grandmother up from the airport, my mom, sister, aunt, and cousin took my flower girl to Build a Bear to make her gift, or I should say, her distraction. Shylee is three and doesn't have a very big attention span so her new bear friend will (hopefully) distract her during the wedding.
It didn't take her long to decide on the pink bear. :-)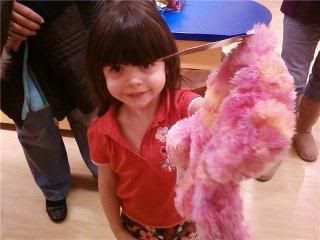 Shylee chose to put in a heartbeat (although I don't think she knew that's what it was) and then it was time for stuffing.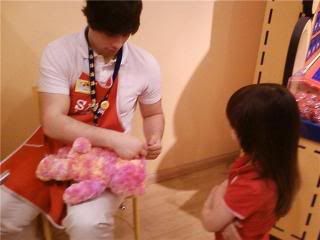 I'll also say here that she wanted to put a sound in her bear and promptly chose a song from iCarly. Not that I have any problems with that, but I didn't want her bear bursting out into song in the middle of our ceremony. Instead we got her a giggle, which could very well have everyone giggling on our wedding day. Oh well.
There are SO many choices of clothing in that store it is amazing.
My mom found the two wedding dresses in the store and Shylee chose one of those before seeing the rest of the store (we would have been there ALL DAY).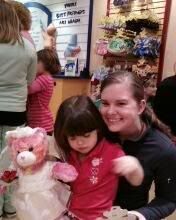 25 days!