As you last read, we were having an awesome time crashing parties and scavenging and eating edible undies!
Item #4: Make a toilet paper veil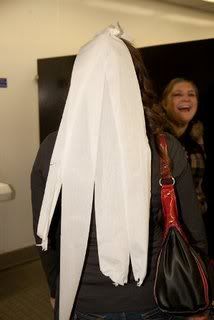 We even have the blusher!
Item #5: Measure one of the girls with grocery store products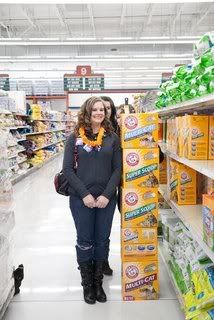 I am 5 cat litters and a lint brush high.
Showing off mad karate skills
Item #6: Do the Beatles walk across a sidewalk
Item #7: Take a picture "worshipping" the squirrel statue in town (yes, we have a giant squirrel)
Dani was having fun being worshipped too!
Item #8: Join a statue scene
Our statue was a little girl reading Dr. Seuss to her cat
Item #9: Make a word out of our bodies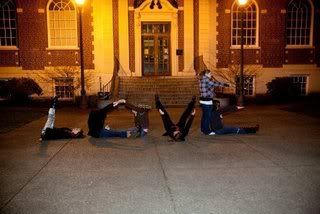 Whew! What a night! From there we went back to my house and watched movies, ate cupcakes, and crashed!!
Up next, rehearsal & set up photos!!