Just food for thought. :-D
After we all got dolled up, it was time to get our pictures taken...separately of course! We hadn't seen each other yet!! We were hoping to get out pictures taken at the lake in town, but because it had been raining for a week, the ground was really wet so we didn't want to chance getting muddy. Bummer.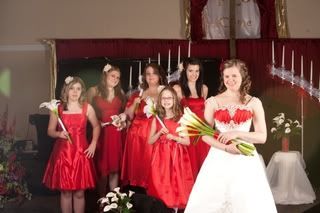 Smiley girls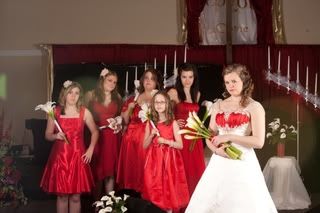 Sexy girls
Aren't we all pretty? I love how all of the dresses match, but are so different! Only two of them were purchased from the same designer as my dress; one is homemade, and the other two were purchased from different companies.
When I first tried on my dress, before I had ordered it, we took a picture with my cousin who would be my flower girl. It was such a cute picture, we wanted to duplicate it.
For being three, she did very well before the wedding even though she missed her nap.
All of the handsome guys, including my dad!
The weather was nice enough to have some of the guys pictures taken in my grandparents' backyard (no fair).
This is my favorite picture of Nick. He was(is) so handsome!!
Next up, our first look! I can't wait to show you!!
Note: All pictures were taken by our photographer, Jessica Lemmons, and her assistant. Check out her amazing work
here
!