All right, on to part two.
The day after the luau we drove up the road a bit to the Limahuli Gardens. If you ever get a chance to go to Kauai, I definitely recommend seeing this site. For $15 you can tour the gardens by yourself with a booklet, it's about a 3/4 of a mile circle and it's gorgeous!
I had to take a picture of this mountain because it reminded me of the profile of a gorilla.
This picture starts the tour...
A lovely waterfall that is kind of obscured by an equally lovely flower.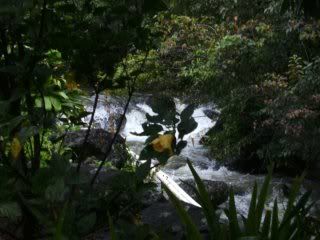 Bird of Paradise
Chickens! The unofficial official bird of Kuaui! Seriously, they were EVERYWHERE!!
Another pretty little waterfall
Dried up waterfall
These trees reminded me of Dr. Seuss trees
Don't remember what this flower was called, but it was pretty...
Cabbage on a stick, haha. Don't remember the name of this tree, but the description was seriously "cabbage on a baseball bat."
View from the top of the garden trail
View of the beginning of the tour taken from the end of the tour