*Ring ring ring*, okay, that's not what my alarm sounds like. I have a random song on my cell phone for my alarm that I don't hate yet (note: do not make a song that you like be your alarm because you WILL grow to hate it).
After eating breakfast (don't remember what it was, I think two bites of cereal or something), my hair & make up artist showed up along with my photographer.
I spent the time I had while getting my hair and make up done trying to memorize my vows. Didn't really work, but it was a good thought at the time (good thing we had hard copies of them during the ceremony).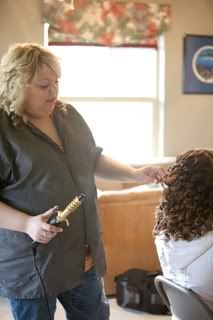 Look at all those curls!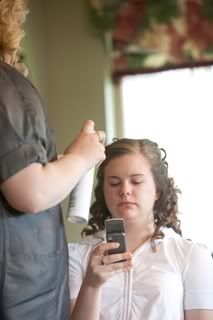 Texting my soon-to-be-husband!!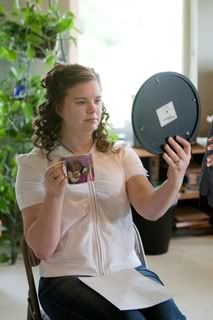 Checking out my new do in the mirror
Getting made up
Putting on my mascara (thanks to my sensitive eyes, only I can do it)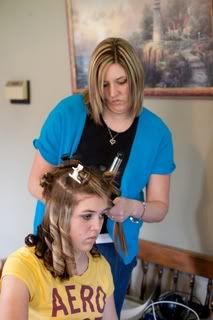 Junior bridesmaid getting her hair done
After getting hair and make up done, and eating lunch (Subway sandwich platters) we headed over to the church where the wedding was being held to get dressed. The youth room where we were getting ready also serves as a dance studio and has a wall of mirrors that the flower girl (and me too!) enjoyed spinning in front of.
My mom helped me get dressed and it's a good thing because there was no way I could dive into that dress by myself! I was so happy that I was finally getting to put it on for longer than 15 minutes!!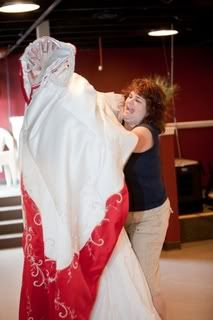 No brides were harmed in the making of this wedding. Haha!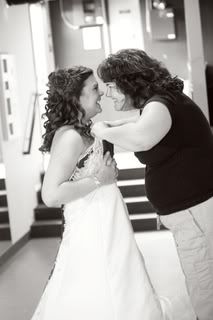 Sucking in to get it zipped up that last inch! Thank you Lord for Spanx and corsets!
Two beautiful bridesmaids!
We had out girly formals while the guys were getting ready, but you will have to wait for those!
Guys are up next! Stay tuned!!
Note: All pictures were taken by our photographer, Jessica Lemmons. Check out her amazing work
here
!