Setting up our wedding locations took the whole day before the wedding, minus when we were rehearsing. Good thing I was so prepared with diagrams and drawings of what I wanted. Let me tell you, it was chaos even with the diagrams, can't imagine how it would have been without.
If you get a chance, MAKE A DIAGRAM OF YOUR CEREMONY & RECEPTION LAYOUTS. Makes things SO much easier. Here are my diagrams, I made them in Excel, although it was a pain in the butt so if you have a better idea, than use it!
Ceremony location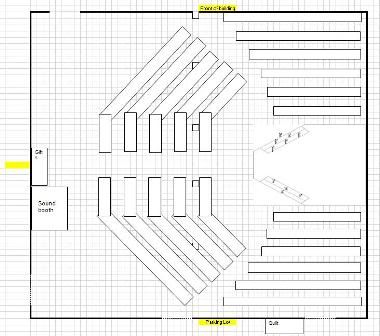 Reception location
Guest tables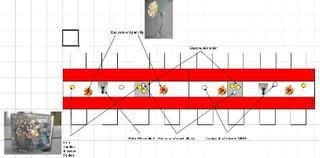 Family tables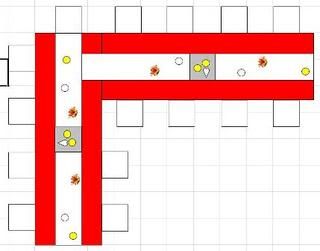 Head table
Anyway, those definitely helped in setting everything up. The following are pictures of us doing the setting up (again, taken by my uncle). I don't have any ceremony set up pictures, but you can see what it all looks like in the actual wedding pictures.
My two favorite men, look how strong they are!
Untangling white light strings
Haha, still untangling
Best Man helping decorate tables
My awesome aunt (and many other people) helped iron 12 tablecloths and 28 table runners. Wow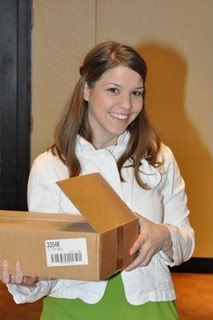 Brothers awesome girlfriend was a BIG help too!! We had her running all over town for two days!
Brother sneaking a kiss from awesome girlfriend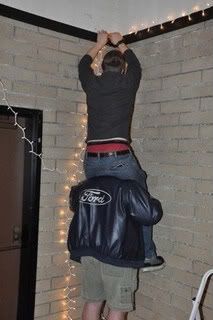 My uncle, Dad, and brother strung lights all around the room and after all of that, we finally decided to test them. Oops, one string didn't work, so this picture and the next are of my brother and dad taking down that string and putting up one that does work.
Hilarious
In the kitchen pre-prepping food (I have a funny story to tell you in a later post)
Unfortunately, I don't have a picture of a finished table, but you will see them in the reception pictures, so hold on tight!!
Up next...getting ready on our wedding day!!