Last of the pictures, I promise!
We did a lot of driving around the week we were in Hawaii, and it is definitely a gorgeous island, there is always plenty to see!
These two pictures are of the Kilauea Lighthouse with a gorgeous view of the ocean.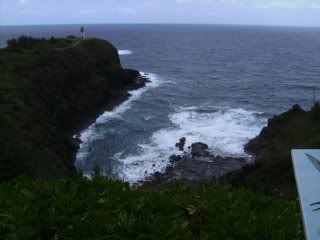 Wailua Falls, a very pretty and big waterfall (80 feet is pretty big in my book)!
Another picture of a chicken, taken in the Burger King parking lot.
The trees were in bloom! Beautiful purples and reds and oranges were everywhere!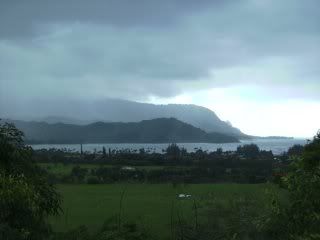 A couple of the many one-lane bridges we had to cross to get to our resort, I believe there were six or seven in the five miles stretch we had to drive.
One of our wedding gifts was a sunset cruise up the Na Pali coastline. It turned out to be a gorgeous (I apparently like that word) day, but pretty windy. We ended up not getting to see the Na Pali Coast because the waves "were getting too exciting" according to the captain, but we did get to see some whales (I don't have whale pictures, but Nick got some) and the sky was clear to see the sunset (pictures also taken by Nick).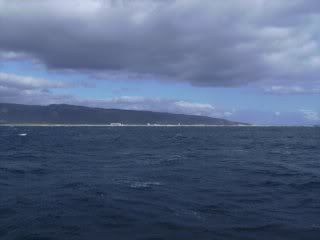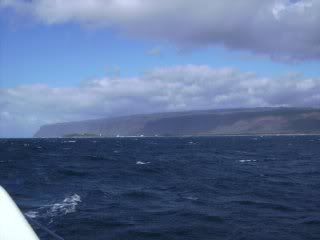 After the cruise, Nick and I both had a craving for steak so we looked in our handy guidebook and found The Bull Shed, which was listed as having the best prime rib on the island. Let me tell you, it was HUGE!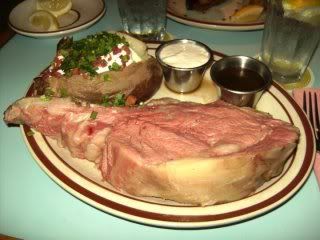 When I got it, Nick just sat there and laughed. I ended up not finishing and we took the rest back to our condo and cooked it up for lunch the next day.
I had been trying to get a picture of this tree ALL WEEK and when I finally did, there was power lines through the middle of it. Oh well. This tree was very pretty and caught my eye because it was covered with ivy and blue flowers and sat on the edge of a river.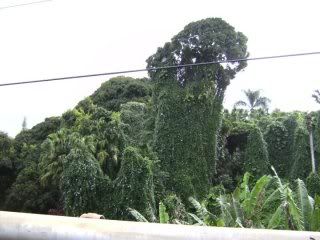 We took these pictures on the last day, notice the sun? The clearest day of the whole trip was as we were driving to the airport to leave. Go figure.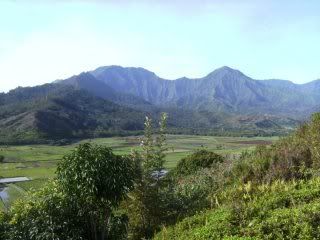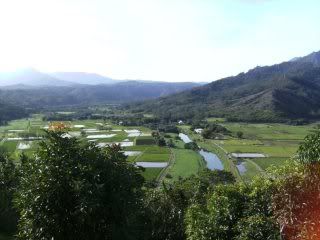 We really did have an awesome time and we both want to go back. If you have a chance to visit Kauai, we recommend staying at the Hanalei Colony Resort, especially if you are honeymooning. It is a beautiful resort full of two bedroom condos and is nice and secluded, but still close to beaches and sites to explore. And definitely visit the local farmer's markets. The fresh fruits and vegetables are amazing!