Well, almost a month. Tomorrow we will have been married for a whole month and I haven't posted!! Yikes! Well, all of you married ladies know how busy life can get and all of you unmarried ladies will learn!
So we're going to start with honeymoon pictures and go backwards because I don't have all of the other pictures yet. Nick and I went to Kauai, Hawaii for our honeymoon and it was ABSOLUTELY BEAUTIFUL!! My first words when we got off of the plane were, "When can we move?"
We stayed at a very nice resort that was rather secluded, but that was the plan anyway. We were on our honeymoon and didn't want to be around a lot of people.
On the map below, we were in Ha'ena, which was about five miles from the nearest "town", Hanalei.
The view from out window, was a gorgeous shot of Hanalei Bay.
Look at all of the lovely clouds. It rained most of the week, but was a nice 75 degrees, so we didn't really care. We're from the Pacific Northwest and 75 degree rain is A LOT better than 45 degree rain.
Here is a couple more shots taken from our window, a palm tree with baby coconuts and one of the other buildings.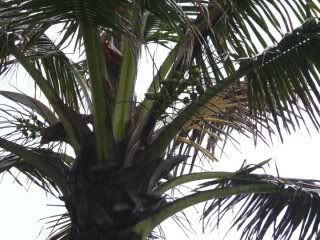 These flowers were everywhere at the resort!
These next three pictures were taken on the beach in front of our building. Our condo was the top window in this first picture.
A view across the bay...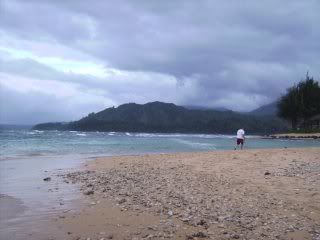 Nick on the beach :-)
The second night we were there, we went to the luau at the resort. It was a nice family luau and all of the cute dancers were the daughters of the musicians.
Nick watching the show...
He even volunteered to get up and dance!!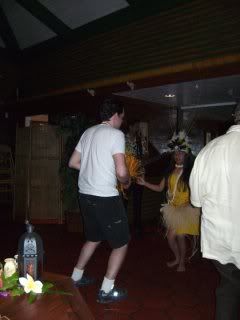 The fire dancer...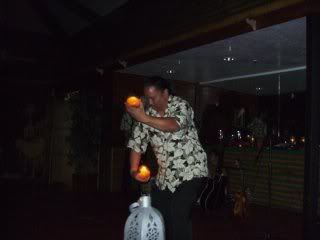 Just kidding, here's the real fire dancer
We had a blast at the luau even with it pouring outside!! Stay tuned for more honeymoon later!!